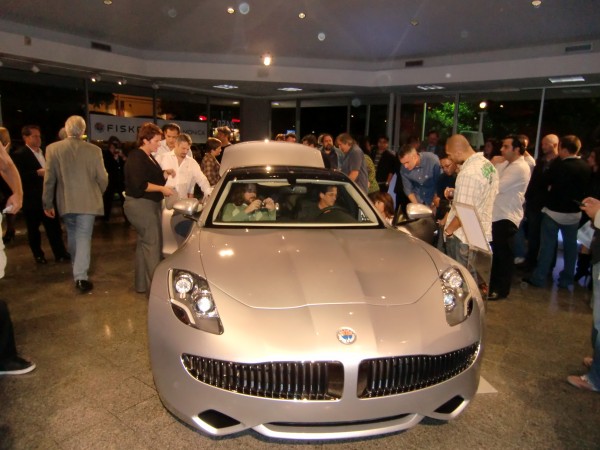 This first of it's kind event gave 100 owners on the waiting list an opportunity to see the Fisker Karma inside and out. Mike "LACarGuy" Sullivan was a great host for the event. The evening started with an introduction from Marti Eulberg Vice President, Global Sales and Marketing for Fisker Automotive. In her talk she explained the meaning behind the logo design for Fisker Automotive. The two bars represent the two founders and the designer's tools used in their craft. The orange color at the top represents a sunset and the blue is for the Pacific Ocean. All of this is combined to pay homage to the company's heritage and it's home in Irvine, CA.
From there she introduces all the representatives that were present from Fisker Automotive. There were interior designers, exterior designers, Human integration experts and several others as well. It was great to see the excitement in each of their eyes when given an opportunity to discuss their part in bringing this revolutionary new vehicle to market.
After the introductions were complete the Karma was unveiled to a round of applause and then a pause of awe that was finally broken with an invitation to get closer and take a look at the car. Attendees were given full access to the car. The lines started to form immediately to get a chance and sit inside each position of the car. Of course the best view was from the driver's seat. The seat position feels more like the cockpit in a fight jet than the controls of a 4 door sedan. The dash is "all glass" meaning that all the gauges are digital readouts on an LCD screen. In the center of the dash is the digital control center, here all aspect of the human to vehicle interface are controlled. Everything is well within reach, it just takes a flick of a finger to move from stereo to the navigation and back again.
Overall the car is more beautiful in person than any of the pictures can do it justice. It will be interesting to see what areas get tweaks between this prototype and the pre-production models that are set to start slowly rolling off the assembly line sometime next month.